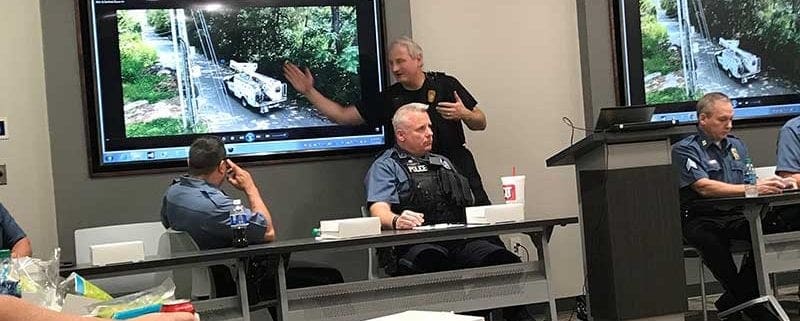 Hunt Midwest Invests in Community Awareness and Crime Prevention
David Strickland – Vice President of Kenton Brothers
As one of the largest area developers and property managers, Hunt Midwest manages commercial, retail, industrial and residential properties all over the Kansas City Area. They are also the owner and developer of SubTropolis, the world's largest underground business complex.
Hunt Midwest supports their businesses and the whole Kansas City Metro through hosting meetings to allow for collaborative discussion on how crime can be prevented. In July, I attended a very collaborative meeting with business and community members of the Hunt Midwest properties as well as the Kansas City Police Department and the Cass County Sherriff's office.
The meeting was a great example of community based policing and crime prevention and how business and police departments can work together to not only catch criminals but prevent crime from taking place in the first place. KCPD Shoal Division Community officers Bill Keely and Richard Jones spoke at length about the ways KCPD is partnering with local businesses to help them promote a safe crime free business community. KCPD uses patrolling officers, community interaction and technology to not only catch the criminals but make it uncomfortable for them to commit crimes in KC because of vigilant citizens.
As a part of the KCPD Business watch program and the KC Watch program the city uses camera feeds shared to them by business owners to catch criminals in the act, build forensic evidence and deter crime through vigilant effort.
Once example given was a surveillance camera was set up to catch illegal dumping.
The perpetrator was caught on camera dumping at a commonly used dump site and even before the criminal was done unloading, the police had arrived and detained him. This was a successful operation because a business owner alerted the police of the dumping going on, the police investigated and found an excessive issue then installed Video surveillance to catch the suspects. It was a story of great collaboration.
I want to thank Hunt Midwest for providing this opportunity and hosting this type of meeting, as well as their commitment to safe, secure business environments. Kenton Brothers is proud to be your security partner!
https://huntmidwest.com/wp-content/uploads/2018/08/Hunt-Midwest-Crime-Prevention-Meeting-01web.jpg
600
800
Eric Ford
https://huntmidwest.com/wp-content/uploads/2022/08/HMW_logo_H-White-600x293.png
Eric Ford
2018-08-16 10:14:38
2019-01-22 15:48:58
Hunt Midwest Invests in Community Awareness and Crime Prevention